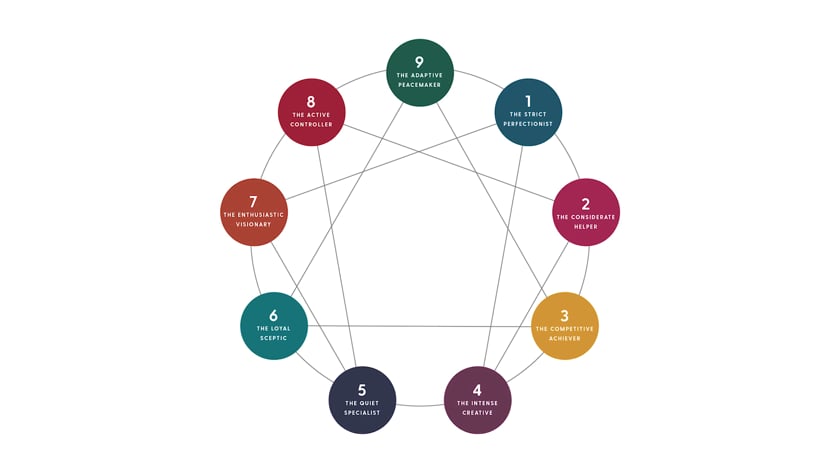 Kristie's Enneagram Experience
I stumbled across the Enneagram in 2010. Once I understood my personality type, it was, in a sense, the beginning of a freedom. I am continually amazed at the way it accurately pinpoints roadblocks to growth and outlines ways to overcome them.
Of course, I wanted all my family and friends to benefit like I had, and so I've been teaching it since 2013. I continue to be astounded at its depth, breadth, consistency, and accuracy. It has easy application to all spheres of life, from team building and professional development, to marriage and family seminars, to nonprofit retreats and one-on-one coaching.
I look forward to sharing its transformational power with you.
The Enneagram is a system of personality typing that describes a person's patterns in how they uniquely conceptualize and navigate the world.
This ancient tool categorizes humans into nine "types" based on several key variables. Looked upon by contemporary thinkers, psychologists, religious leaders, and practitioners as an incredibly accurate and poignant system, those who engage with the Enneagram find new levels of self-awareness, empathy with others, and empowerment.
Utilizing the Enneagram awakens aspects of yourself you didn't even know existed and catalyzes personal, professional, and relational growth like no other tool out there.
Before meeting with Kristie, I had some experience with the Enneagram and thought I knew which personality type I was. However, Kristie's coaching made me realize I was wrong about the Enneagram number I thought I was. Her guidance has helped me not only in my personal life, but my professional life as well.
David, business development consultant at Oracle
I am powerful because Kristie helped me change my life.
Katharine, social worker
True transformation takes time and dedication. However, with a guide in the process, asking the right questions, listening to the responses, moderating in-depth discussions and utilizing the best tools for growth, significant positive change will occur.
Jeff, CFA and former partner at NorthPointe Capital
We are complex humans trying to figure out how to navigate life more effectively and graciously. LifeSpark is a great way to grow personally and in life as a couple! I am so thankful these tools are available. Wish I had them years ago!
Steve, senior pastor at Kensington Church
Throughout [Kristie's] coaching with this tool, the Enneagram, and with the aid of many humbling and thought-provoking exercises, I accepted that not only was I asking God to prop up my false self, but my view of God was entirely based on my false self. I can't put my finger on the exact moment prayer became love, a relief, and my daily bread. But it did. I was awakened to a place of absolute surrender. The thing I seek is no longer a list to prevent my undoing but simply to see the face of God.
Anonymous
I was truly astonished at the immediate clarity and deeper self-awareness I received after reviewing the results of the iEQ9 Enneagram report with Kristie. It was like a window into my soul. I look forward to [Kristie's coaching] as she guides me to take what I am learning about myself to bring about changes that I need – and for which I long.
Craig, chief community and spiritual life officer
Through the work I did with Kristie, I have demolished barriers that kept me from evolving. I built and continue to build stronger, more genuine, more meaningful relationships with others – and with myself.
Katharine, social worker
I have known Kristie for more than five years and have learned so much from her. She is an excellent teacher and communicator, and is very insightful into the human experience.
Kim, owner of an insurance agency
Our leadership team engaged Kristie for comprehensive sessions on emotional intelligence. Kristie is clearly an expert in her field, very professional and we continue to glean the benefits from the insights she provided on a daily basis. Kristie earned our highest recommendation possible.
John, chief operating officer
The [Enneagram] assessment was amazingly accurate and has been transformative in helping me understand myself and how to better lead my team.
Denise, zoological curator
By far, the most important investment I made in seeking personal and professional fulfillment came in the time I spent with Kristie, facilitating the complex body of work known as the Enneagram. With her training and experience, and her careful and thoughtful approach, Kristie is the perfect guide for this important life-journey.
Jeff, CFA and former partner at NorthPointe Capital
The depth at which [the iEQ9 report] goes into is amazing! The insight! It is incredibly helpful if you are willing to work on it.
Chris, wife and mother
We have been married for 30+ years. While we are a good team in many ways, over the years we found ourselves living more and more 'together alone'. Then, we were introduced to Kristie and LifeSpark. Using our reports and her on-point coaching, Kristie helped us develop a common language that allowed us to begin to re-engage as a couple in a way we hadn't in a long time.
Joanne and Rob
There are multiple personality profile tests and programs that help identify strengths and weaknesses, biases and blind spots. However, simply identifying those traits is not enough to transform our perspective and thinking. This can only be done with a facilitator trained in the science and the art of creating an awareness that allows for our perspective to shift and broaden, and allows us to identify thinking habits and patterns that hinder our growth.
Jeff, CFA and former partner at NorthPointe Capital